Dear ALL

DATES TO DIARIZE:

6 December 2020. The exhibition opened virtually. More on this later

26 and 27th January 2024 Jeanette Gilks to run a workshop at the Tatham art gallery. More on this later

9 and 10th February 2024 repeat workshop from Jeanette

28th February MicroMACRO exhibition closes

2 March 2024 Works to be posted back to artists. More on this later

August 2024 Roy Starke exhibition at the Tatham art gallery

August 2024 Annette MacMaster to run a workshop at the Tatham art gallery during Roy's exhibition

Fibreworks XI Exhibition 2020

Listening to Rosalie's Opening Speech 6 December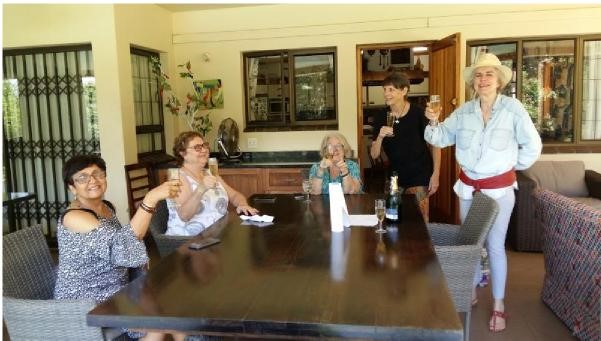 Sarohani, Helga, Rosalie, Leonie and Jeanette

A few of us - Odette Tolksdorf, Sarojani Naidoo and Helga Beaumont went to the Tatham art gallery on 15 December to check out our exhibition face to face. The exhibition was beautifully hung: spacious, airy and professional. A really classic show. Phumlani, the technical officer at the gallery, and who I think also heads up the hanging committee has done a marvellous job! What an absolute joy not to be involved in the arduous process of hanging the artworks. We arrived fresh, and consequently saw the work freshly, as an outsider might, and we were freshly inspired when we left, after delicious muffins and coffee at the coffee shop.

This is the first Members' exhibition that has opened as a virtual show. Thank you, and congratulations to everyone who contributed to the unfolding of this extraordinary event, triggered by extraordinary times. Covid 19 is horrible and it continues to be horrible, and world-wide it has been an astonishing shape shifter - bewildering and shocking and breathtaking. And I mean that in every sense of the word...

And now for a bit of history: As some of you may remember, the Tatham art gallery was the venue for our inaugural National Members' exhibition way back in 1999, and now 20 years later, it has become the first virtual venue of our 11th National Exhibition. And our show is also the first virtual show for the Tatham. So that's another first. I think this has got to be Gold!
Gold All Round for All.

There are a few Fibreworks members who I want to thank specifically for getting this show on the road - or probably more accurately - getting the show launched into cyberspace!
Helga, Odette, Rosalie for finally persuading me a while ago that we should definitely Go Ahead with our National Biennial show, despite Covid and all the difficulties and hardships we knew we would encounter along the way. They kindly reassured me that they would take the reins - all of them - while I buried my head in the thick soup of anxieties and super frustrations that constituted teaching and marking all my 140 students on line at Vega this year

Helga and Rosalie for coordinating the panel discussion: Rosalie for her insightful questions that were tailor made for each of us; Helga for liaising with the Tatham gallery and relaying often fluid and changing information to everyone in good time

For all the Fibreworks members who took part in the lively panel discussion

Halford, Rosalie's son, for the time spent on adjusting and tweaking the final recording so that it appropriately addressed the particular public it was designed to inform. Editing is tricky and very time consuming

Rosalie for her inspiring virtual address

Odette for receiving and documenting the received work from members and ferrying a lot of it to Pietermaritzburg

Helga, for requests for our One-Minute chats about our work and still remaining pleasant when we hadn't responded by the deadline

Helga for getting all our chats off to the gallery

Helga for handling all the administrative aspects of our exhibition and for tirelessly correcting all the inevitable errors

Helga for posting relevant information onto our WhatsApp chat group

Corina for her videos of the exhibition that we all saw on WhatsApp

We are still awaiting our one minute chats, the panel discussion and another professional video of the exhibition to be posted, I guess, on the Tatham website. I hope everyone has seen the slide show of our work.

Here below is Rosalie's virtual opening address. Where were you when you listened? We will all remember where we were because this was the first of a kind for us as a group. And I hope not the last!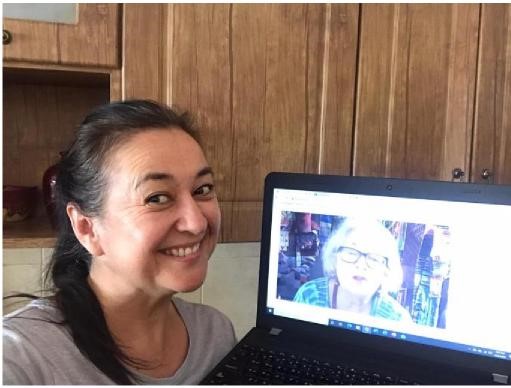 Stef Neville in Dubai watching the opening speech

FIBREWORKS TATHAM OPENING 2020

Welcome to Fibreworks XI Biennial Exhibition, this year in the form of the microMacro Exhibition.

Thank you to the Tatham Art Gallery, amid the extraordinary Covid-19 ridden circumstances of 2020, for hosting and setting up the exhibition, to the Fibreworks core for organizing the show, and to the members for creating the actual works.
Folding, fraying, felting, crumpling, dyeing, drawing, weaving, piercing, stitching, and quilting are just some of the ways in which this extraordinarily versatile medium can be used to, yes, literally, layer and convey the experiences of the makers.
The medium of Fibre and Textiles is both very ancient and very contemporary, spanning the generations-long continuum between function and creative aesthetic expression. In a world where we have so many forms of expression available, from drawing, painting, sculpture, ceramics, photography, digital media and multiple others, why do people choose time- consuming and pains-taking FIBRE & TEXTILE?
Recently in our Panel Discussion, which I hope you see, we discussed the desire, the choice, the irresistible need of Fibreworks artists to work in this medium. The answers to the question of Why they choose to work in this medium, pretty much covered that, apart from the vital tactile character...we can feel and touch it ..it is the extraordinary versatility that allowed, in fact has driven, people to make works that can be tiny and microscopic, huge enough to cover a building, can be 2 or 3 dimensional, that can be flat, or have volume and mass, be abstract and non-objective, or representational and symbolic on a personal or global level.
After our skins, that form the primary personal edge barrier between each of us and the world, it is textile and fibre, usually in the form of our clothing that we feel most easily and readily. It is a medium that human beings relate to, something we know and understand next to our own skins and under our fingers.
So it is not surprising that for the longest time, it was taken for granted, overlooked, and fobbed off as merely functional or utility and of course, women's work.
But we know that it now embraces the work of numerous artists across diverse languages, ideals, attitudes, countries and classifications making and exhibiting exciting and innovative work.
It is no longer being side-lined and questioned as to its position in the tired art / craft debate.
It has been seen for the powerful voice and weapon that it is, that enables people across the globe to express their creative
authenticity, whether as an aesthetic expression, a personal statement, a political protest, a comment and response to the state of the world about such issues as climate change, equality, diversity, health care, wastefulness and recycling.. Textile and fibre arts span a range that, while allowing intense response and understanding between the artist and the viewer, is thought-provoking on every level. It allows for meditative, self-reflective, for mending and healing. It speaks of time taken, and of individual and human history with links to the past that comment on our everyday lives.
We hope you enjoy and are moved by the individual expressions of creativity you see in our exhibition. Using a medium we love, the works show who we are, what has happened to us, what we feel, and where we hope to go in the future.
Rosalie Dace November 2020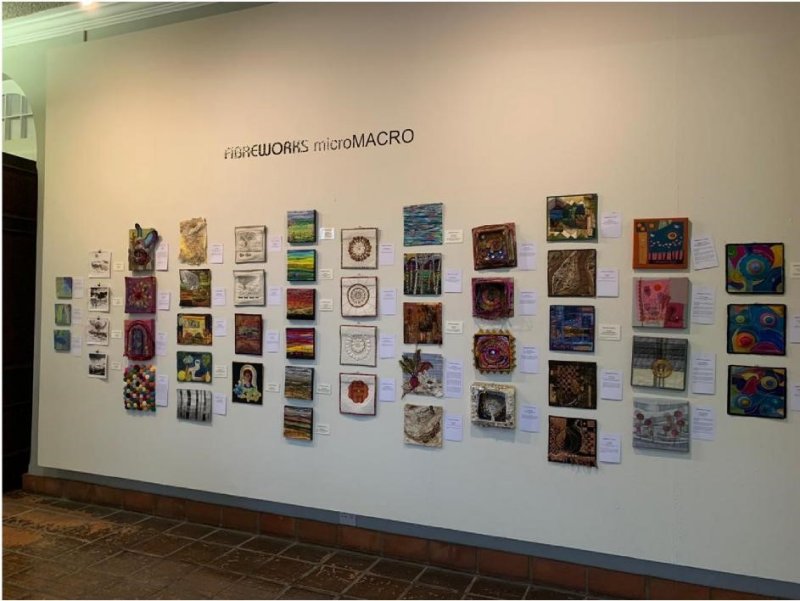 The Tatham wanted a Mission Statement for the Exhibition so here's what I wrote:
microMACRO Fibreworks Exhibition

Sashiko, meaning 'little stabs' in Japanese, is the very slow traditional art of fabric repair, designed to extend the life of an old garment. Interestingly, the aim is not to hide the repair but to honour and celebrate it, and so the patch is attached to the inside of the fabric using rows of stitches. The imperfection of the tear is still visible.

microMACRO, a national textile exhibition of smaller and larger artworks, by the Fibreworks group, also demonstrates a powerful desire to extend and transform the life of a ready-made thing, and the process is sometimes quite violent: cloth is ripped and shredded and torn. Different ready-made materials are stabbed, cut and frayed and sometimes even burnt. But they are also layered and joined together and connected, so the areas of puncture and rupture are, paradoxically, also the areas of repair. Stabbing and cutting are the very areas of mending, resurrection and healing.

Covid 19 has slowed the world. Perhaps we all need to reconsider the speed at which we need to live and what kind of life we want to preserve. Perhaps we need to honour the imperfection of fractures and tears as they can be a source of great inspiration and new beginnings. It's also time to celebrate the repairs as this can be the site of recovery and transformation.

The slow power of mending, healing and renewal, in both Micro and Macro ways, has never been so urgent.

Jeanette Gilks
October 2020

Return of work to artists 2 March 2024

Fibreworks will keep the works that weren't hung and will send them back to the artists/owners with exhibition work at the end of the show.

Workshops run by Annette and Jeanette

The Tatham Gallery always requests that there be some Outreach Programme or workshop that runs alongside the current exhibitions. Annette McMaster will be running a class in August, when Roy's work will be exhibited. We will hear more about this workshop later.
I will be running a printing and collage workshop called MAKE YOUR MARK: TAKE IT AS RED! The workshop will run through the principles of reverse mono-printing, monotype and object printing and then students will create simple collages using some of the artworks made the previous session. They will experiment using some of the following techniques: sewing, gluing, pinning, and weaving

A few notes about Packaging Your Work to send to Exhibitions

First of all, and especially when in doubt, put yourself in the receiver's position and think how you would like to receive artwork that is shipped to you.
Ask: How can I make as sure as possible that my artwork arrives safely and make the job of the receiver as simple as possible?
Think of your art in the gallery storage room along with the art of many other people.

Make sure your artwork is clearly labelled, with a minimum of the artists name and the title of the work. (This helps us to identify the work instead of spending time guessing by a process of elimination or other means!)

Wrap each work carefully and put it into a cloth bag, or wrap it with bubble wrap, then place it in a plastic bag (to protect it in case it comes in contact with liquids in the shipping process).

Label any bag that you send, with your name & the name of the work. (This helps with the return packaging of your work).

Include a typed Packing List in the package, with the artist's name, and the title of each work in the package. (So the receiver knows what was sent).

Make sure your packaging is clearly marked with the name and contact details of both the sender and the receiver.

Achievements of Members

Fiona Kirkwood

Congratulation to Fiona for winning a major global award for her latest installation Rain in the international art show 'From Lausanne to Beijing'. It was curated out of China and can be viewed online in mid-January.

Rain is made of nylon, beads, steel wool and digitally printed polyester and comments on how climate change is affecting rainfall patterns in South Africa and different parts of the world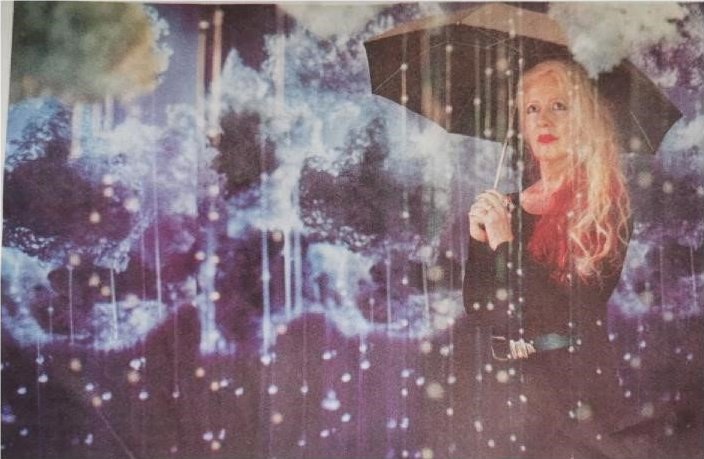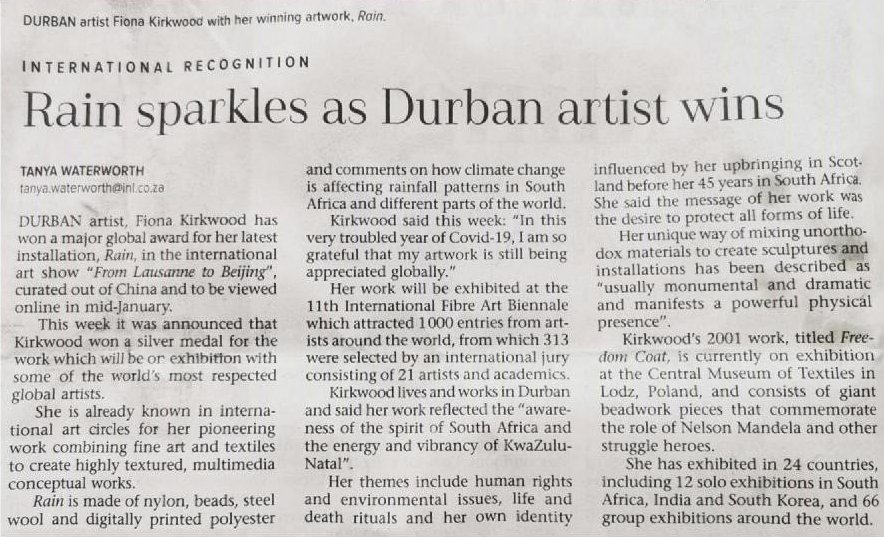 Mariss Stevens, Elaine Barnard and Tilly de Harde

20th Annual Brother International Quilting competition
https://brother.co.za/brother-quilting-contest-2020/

The South African Brother Quilting competition was held in 2020 and Mariss Stevens got third place in the Contest with her piece Garden of Delights.

Elaine and Tilly also had works selected as finalists : Tilly's works Egoli, Place of Gold and The Colour Purple and Elaine's Root Vegetable. The Brother competition asked a secret judge to name her favourite and it was Elaine's work Popeye's Favourite.

Their quilts will travel to Japan for the international leg of the contest on 2024..

Well done and Good luck.

Thanks everyone
Stay safe
Jeanette and The Team