Dear ALL

DATES TO DIARIZE:

10 October- 4 November Fibreworks X National Exhibition: EDGE at KZNSA gallery in Durban. More on this later
4 November. Sunday Knock down of exhibition and return of works
August 2019 National Quilt Exhibition in Gauteng. More on this later
NEXT MEETING

Friday 23 November 9 am at Helga Beaumont. 21a Alexander Ave, Kloof

2018 AGM

Members present: J. Gilks, S. Naidoo, O.Tolksdorf, A. McMaster, S. Akerman, L Malherbe, R. Dace, S. Physick, H. Beaumont.
Three members gave their vote to members present: J Faulds, D. Biddle and G.Gerhard.

Apologies: L. Koorts, K. Harmer Fox, J. Hearn, T de Harde, M. Letts, C. Harris, M. Stevens, C. Kode, C. Zelenka, M. Pretorius.

It is always a pleasure to hear from our members when we have an exhibition: Celia de Villiers is in Portugal and Carolyn Kode is moving to Hermanus.Carolyn Zelenka, Gillian Gerhard and Marilyn Pretorius all send their love and best wishes. Thanks!

The AGM, held at Odette's home, commenced with jurying prospective members work as time was extremely tight. Six people had submitted work and we were due to be at the gallery at 10:30am for a walkabout. At the walkabout, all the artists present were invited to talk about their work, and apart from the obvious educational aspects of a walkabout, these interactions with the public are an opportunity for us all to share in our common humanity: frequently our most personal issues resonate profoundly with other people, even people we don't know. This is why we make art, I guess!

Thanks to all the members who spoke about their work.

After the talkabout, we resumed the AGM in a venue set aside for us at the KZNSA gallery. Hereunder the matters discussed in no particular order:


We welcome the following new members to Fibreworks: Prue Nicholson, Mandy Schindler and Ira Becker. Hopefully you will be active members participating in our National biennial exhibitions!


There was some concern expressed about prospective members and their portfolios, and Odette and Rosalie have undertaken to be more specific with regard to these requirements. We will keep you posted on these submission requirements and they will be available on our website in due course


Delivery of work for exhibitions: In future, please ensure that the physical works delivered for the exhibition - the numbers of works submitted and their titles - corresponds exactly with the information that you have emailed to Helga. Conversely, draw attention to the fact that you have submitted different works/ different titles, whatever. It can be a nightmare trying to collate electronic information about artworks with what is actually sent, particularly if there is a lot of work sent from each member. We worry if work has got lost! We are not asking you to refrain from changing your mind regarding any submission; just let us know if you have. Please include a Packing List in your parcel which lists all articles in the parcel. Thanks to most of you who had an- easy- to- process- list of submitted works. What a dream! Not a nightmare


Please also submit work as a hang-ready. There is no guarantee that work will be hung if it not presented as a hang-ready.


EDGE exhibition Fibreworks X 2018 Durban KZNSA gallery

This was the first time in the history of our national exhibitions that we had nothing to do with the setting up/display of our work. We paid the gallery to do this. (We are now all too old to be up ladders and banging masonite drill bits into walls!) And, as has always been the case, we - Fibreworks - did not jury the show either. This being the case, there will always be questions about what was put where, and why.

Concern was also expressed about the quality of some of the work exhibited. To be sure, we all have our private thoughts about the selection of works displayed, but we have to abide by the decision of the selection committee, even if we disagree with it. And some institutions/galleries are more willing to invite discussion regarding selection than others. I heard once that if you have never had concerns about where your work was displayed, you have probably not exhibited very often! I know that a few of you are disappointed that your work was not exhibited and I am sorry about this, but we have tried to do our best.

Whilst in the gallery, overseeing the Running Thoughts performance artwork , a number of us have experienced very positive feedback about the KZNSA show. It is very rewarding to hear this kind of positive assessment from diverse members of the general public. Fiona Kirkwood met up with Leonie, Rosalie and me. So good to exchange enthusiasms! Fiona has been overseas and was sorry to miss our opening night.


Here is an article that appeared in the Independent on Saturday promoting our exhibition: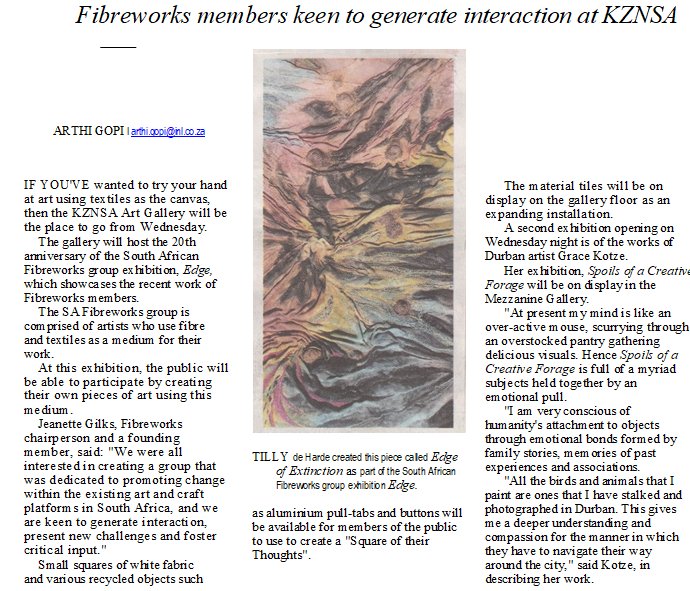 Opening address by Estelle Hudson Guidance Councilor, Garret Artist.

What an honour to be asked to open this exhibition! Thank You.

It has required of me to understand a new medium, to research and interview at least one of the artists to appreciate fully the manner of construction and deconstruction and reconstruction in putting together these amazing pieces of work. We are looking not only at skillful application but at the use of different materials: some handmade cloth, cloth made out of the bark of a tree, transparent cloth like netting and organza, which gives a transparency to places of the most delicate of water colour consistency, allowing the shapes of the first layers to show through. The layering of the materials gives an exciting texture and thicken and enrich the story which for me is probably the most unique aspect of these pieces of art.

Kim Rosen, in her book 'Saved by a Poem' says, 'getting to know a poem is entering into a relationship.... it asks for commitment and focus ... it requires the same amount of discipline as becoming a connoisseur of chocolate or exploring the intricate auditory landscape of music that makes your heart sing ...this focus is a natural companion to pleasure and curiosity.'
Viewing this body of work for me is about the commitment and focus of the artists and our - the publics' - viewing the work, which needs to have similar characteristics, the same amount of discipline, exploring the intricate stitching and construction, letting our imagination explore the landscape the artists have created, and making this viewing an experience of pleasure and curiosity.

When speaking to one of the artists about the method she used to construct her work, she told me it starts with the concept she has for her piece, then the shapes she sees. Then the cutting of shapes and constructing it on a pin board, pinning and re-pinning, standing back to get a feel of the whole, an idea of colour and tonal values, darks and lights, moving them around. When it is not working she says: 'I know I can find a way; a moment of excitement is the best part and putting it on the wall. Then the exciting moment of commencing with the stitching'

THEN ... she said an interesting thing which fired my imagination ... she said 'I have discovered that instead of sitting, I stand at my machine. I have a better perspective and also freer movement.' My imagination took flight at this point and I saw her dancing her creation into life. After this MY viewing her finished pieces of work was done with more imagination. They became filled with music, poetry, movement, filling me with a new sense of appreciation and awe.

Judith Mason in her book "The Minds' Eye" says

'Every work of art you have ever looked at has invited you into a metaphorical space. Sometimes you have felt welcome to roam around, sometimes access has been denied, and sometimes you have felt as bored as a hamster on a treadmill ... You enter metaphorical space as cautious and curious as a cat. You need an entry point and an exit point otherwise you will be afraid to explore. Artworks invite us into new and strange experiences and even if they want to convey something uncomfortable they need to move us halfway '... she concludes this by saying, ' the art of composition is the art of hospitality.'

The theme of the exhibition is 'Edge.' I invite you to experience this hospitality as you step off the Edge.

You have all been sent links to view all the photographs of our exhibition. Should you wish to use them, please acknowledge the photographers. Thanks.

Running Thoughts Community conversations - Text-TILE installation.

This has proved to be another entry point of interaction with the Durban public and an interesting exercise in community engagement. Adults, on the whole, are remarkably timid creatures and have to be coaxed very gently into taking part in an activity where they believe they will be judged. Young adults and children, however, seem more than happy to take the bull by the horns and get stuck into threading and sewing and weaving and growing. How good to see school students here with their gender equality T shirts, the boys beading as enthusiastically as the girls!

Thank-you Sarojani for co-ordinating the Duty Roster for Running Thoughts and also for organizing the delicious platters for opening night!

Interchange, National Quilt Festival 2019: Quilt show in JHB next year

We have been invited to exhibit with the National Quilt Festival in Gauteng next year in August. We have agreed to participate in this show and we will keep you posted on updates.

Fact and Friends Exhibition

The second FACT and Friends exhibition was held from 14 - 22 September at Nova Constantia in Cape Town and was very well-received by the 1000-plus visitors.

FACT (Fibre Artists Cape Town) is a small core group which has amongst its members some Fibreworkers, as in Kim Tedder, Lubi Koorts and Sheila Walwyn. Friends are invited guest artists, amongst whom were Fibreworks members Elaine Barnard, Helga Beaumont and Cathy Knox.

Other friends included more textile artists, embroiderers, painters, ceramicists, jewellers and a glass artist, and the mix of several different media made for a varied and interesting exhibition. An overall theme of INTER-WOVEN gave exhibitors a starting point for some ideas and was also an apt title depicting the inter-connectedness of all artists, no matter what medium they work in.

Margie Garratt's beautiful home which she so generously shares with us in enabling much-appreciated exhibition opportunities, is a place which people love to visit to enjoy the art and relax and chat with a cup of coffee. The Garratt's grandchildren's swing in one of the magnificent oak trees was a draw card for several exhibition-goers; a couple of eighty year olds had to be reminded that they came to view an art exhibition, not to swing!

Our opening function was addressed by Mary von Blommestein, curator of the Irma Stern Museum and Gallery.

We hope to make this an annual event and will always consider Fibreworks members as part of the Friends network and look forward to their participation.

Sheila Walwyn

FINANCES 2017/2018

Here below is Helga's financial report. Thanks Helga!

Fibreworks has R25295.75 in the bank at present and we decided to invest some of the money so we can earn some interest.

Fibreworks has 43 members and 27 participated in the National Fibreworks exhibition in Durban.

The expenditure and income for the year are reflected in the table below. We run our year from one AGM to the next, so October is our end of year.

Here is a brief summary of the headings in the category column. If you need more clarification please ask Helga who is only too happy to explain.

..
The bank charges for this year were R689.95. It is high but that is why we changed banks.


The catalogue sale from Major Minors brought in R115. There are still quite a few to sell, so please get on with it.


The gallery cost is clear as is the income from Hanging fees. We did well this year to only be R7219.96 down as the KZNSA gallery was expensive. There will be more costs but those will be reflected in next year's balance sheet.


The heading Fibreworks refers to the change of banks - we paid R500 in cash to open the Nedbank account and then transferred the R27130.06 from ABSA to Nedbank.


The subs and the web site I think need no explanation.


Thanks to all of you all for paying your subs and hanging fees and keeping Fibreworks solvent.
Helga Beaumont

Remember to use the new banking details.Please email Helga for the new banking details and let her know on helga@adoptimise.com once you have paid any monies!

Furthermore, please add the extra costs on to your fees if you are paying cash or use the ATM.
The additional costs are as follows:


Cash payment: R6 plus R1.50 per R100 or part thereof

Nedbank ATM: R3 plus 75c per R100 or part thereof


If you pay by EFT there are no costs.

FACEBOOK and WHATSAPP

These social media platforms are now up and going! Thanks to Helga and Sarojani. Good to see the members sharing and discussing matters, events and images with such lively enthusiasm. Keep the conversations rolling...


FIBREWORKS WEB SITE http://www.fibreworksart.com

The web site is up to date. If you want to send more images for your pages, or join the web site, send your images and information by the end of May. It's very important that you send Helga high resolution images. Label them with your surname and title of the work, and send them in a jpg format. Make sure your text follows the web site format.

CALL FOR ENTRIES

Please send us any Call For Entries that Fibreworks members may be interested in.

INTERESTING WEBSITES
https://www.jonibrenner.com/
https://vimeo.com/255170713 the need to be alone
https://www.textileartist.org/textile-art-sampling-101#.W1-2_Z1xoQc.mailto
https://www.artco-art.com/Marion-Boehm/marion-boehm.php
http://artafricamagazine.org/ictaf-marion-boehm/
http://www.art.co.za/news/artist-view-inside-artists-studios.html?utm_source=sendinblue&utm_campaign=Newsletter_June_2018_Week_3&utm_medium=email
https://www.lauracheney.com/Artist.asp?ArtistID=34613&Akey=R457VCH7&ajx=1

Please share any interesting websites with us.

Thanks All!
Jeanette and The Team - Odette and Helga