Dear ALL

Dates to diarize:

1 January 2015 submission of Entry Forms for National Quilt Show in Durban. Fibreworks exhibiting at the National Quilt Show. More on this later.

4 May Closing date for submission of artworks for the National Quilt Show.

3 - 6 July 2015 National Quilt Show at Kearsney College in Durban.


Our final meeting for the year meeting will be held on Wednesday 19 November 2014. Odette has arranged for us to visit Caversham Textiles to see their fabrics and hear a short talk. We'll then go on to Ardmore Ceramics which is nearby. Afterwards we'll have our Christmas lunch at a restaurant called Gosh. They have a special on Wednesdays for a R100 or you can choose what you would like. Please email Helga so we can confirm numbers.

Our AGM was held at Annette McMaster's home on 11 October. We decided to have the AGM in Pietermaritzburg as Corina Lemmer's exhibition 'Fragile' was opening on the same day at the Tatham Art Gallery. Well done Corina for a beautiful show.

I will tell you more about Corina's exhibition in the final 2014 newsletter. Indeed, there are a number of achievements of members that need to be shared with the group! Watch this space.

Present: Rosalie Dace, Leonie Malherbe, Jeanette Gilks, Annette McMaster, Odette Tolksdorf, Sue Physick. Helga Beaumont, Carolyn Zelenka.
Gill Gerhart and Jutta Faulds helped assess prospective members' work.
Apologies: Sheila Walwyn, Lynette Douglas, Cathy Knox, Cornelia Robinson, Margie Letts, Dana Biddle, Marilyn Pretorius, Jenny Hearn, Sally Scott, M. Garratt, Kathy Harmer Fox, S. Akerman, C. Harris

We would like to welcome three new members to the group! Hester Viles, Tilly de Harde and Tessa Horan were all unanimously voted in by all the members present. It was felt that these three people contributed a significantly new voice to the group. Thank you all. Looking at the CD's people submit always gives valuable insights into the artist's inspiration and their methods of working. Attached are some images of their work: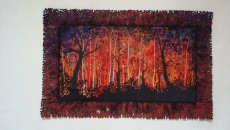 Tilly de Harde. This was not the piece submitted physically. It came to us on her CD.



Tessa Horan. This is a close up of one of the artworks submitted.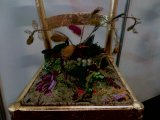 Hester Viles - a beautiful 3 D embroidery.
Exhibitions:

1. artSpace, Durban 29 September - 11 October 2014

Our National Members' exhibition - Fibreworks VIII - was opened by the Robert Brusse, whose colourful address complimented the works on display. There was a good attendance at the opening and delicious food. Thanks to all who helped to hang the exhibition and who contributed to the success of the evening. I am always amazed at the extraordinary variety of works that make their way onto the gallery walls: there were abstract, highly realistic and symbolic renderings of subject matter and a scale of work that ranged from the Major Minors to vast mixed-media ensembles that covered an entire wall! The exhibition got a glowing review in the newspaper and Bryony Clarke, deputy Director of the Tatham Art Gallery, made a special trip to see the exhibition before it came down. She was very impressed.

Major Minors V was also exhibited at ArtSpace. Helga has very kindly made a spreadsheet of every gallery in which Fibreworks and Major Minors have exhibited, and we are attaching it for your interest.
Remember Helga is keeping the work exhibited at ArtSpace together, so if you want it back sooner, let her know. People that have requested that their work be returned, should have it by now. Thanks Hester for returning much of the work to the Gauteng members.
Finally I want to thank one of Odette's friends who did a great job of the invitation! She is also happy to help us out again in the future. Good.


Major Minors V




ArtSpace Galllery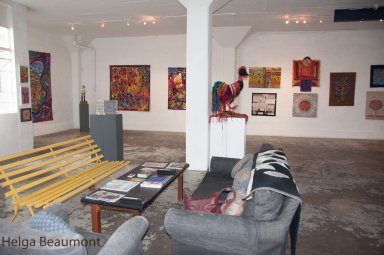 2. Durban National Quilt Festival 2015
Fibreworks will be a guest exhibit at the Durban National Quilt Festival in 2015 at Kearsney College. The theme for the National Show is 'Creative Energy'. Perhaps keep this in mind if you are considering submitting additional work to the third leg of Fibreworks VIII! Only members who have not paid the R120 entry fee, need to pay to exhibit here. There is no other payment due.
The web site address is:- http://festival.quiltsouthafrica.co.za/ Information regarding this festival is up on the web site, and bookings open on the 15th November.

Subs and Finances:
Not sure if Kathy has the golden touch, or what, but almost every one of our members paid their subs for 2014!
Please don't forget to pay your subs for R2015. The bank details are at the top of each newsletter and the annual fee is R150, payable at the beginning of each year. Please contact Kathy Harmer Fox, if you want to check on your subs. Kathy's email address kathryn.kathy@telkomsa.net
Kathy is no longer available as Treasurer. At the AGM, as no one was prepared to take on this responsibility, Helga made the decision to purchase a basic accountancy package that takes care of all our financial transactions. Hallelujah! I have looked at it, together with explanations from both Rod and Helga, and it does just the job. Although Kathy hated the job, her book keeping skills balanced to the last cent! Kathy and Helga are happy to take the reins of Treasurer together, managing this work-horse package as a team. When you pay anything it will be fed to the horse and properly stabled!

Best,

Jeanette