Dear All,

DATES TO DIARIZE 2018:
31 August Fibreworks X: High resolution Photo's of art works to be sent to Helga asap. Label them with surname and title of work. The gallery needs images for the invitation.
14 - 22 September FACT exhibition at Nova Constantia in Cape Town
21 September - Fibreworks X Artwork and Entry Forms delivery deadline. More on this later

Work to be delivered to Odette Tolksdorf, 83 Jan Hofmeyer Road, Westville. Tel: 074 1720544 / 031 2672979

If using POSTNET, send to Westville Postnet. Odette can collect from there

10 - 28th October Fibreworks X National Exhibition: EDGE at KZNSA gallery in Durban. More on this later
Monday 8 October. Setting up of Fibreworks exhibition at the KZNSA gallery in Durban.
Tuesday 9 October 17.30 Exhibition opening at KZNSA gallery.
Saturday 13 October Fibreworks AGM 9 am. Please see additional details in the last newsletter.
Saturday 13 October later that day. Walkabout/talkabout in the KZNSA gallery
Sunday 28 October Knock down of exhibition.

NEXT MEETING

Friday 10 August, 9 am at Sarojani Naidoo, 59A Pitlochry Road
Westville, Tel 031 262 4430 / Cell 0840827510

Our previous meeting was held at Bellevue Café in Kloof on 14 May 2018 Members present: K. Knox, J. Gilks, S. Naidoo, O.Tolksdorf, A. McMaster, S. Akerman and L Malherbe.
Apologies: H. Beaumont, J. Hearn, T de Harde.
Good to welcome everyone, especially Kathy Knox who was visiting KwaZulu Natal. Thanks Kathy for a new Eastern Cape voice to add to the Fibreworks chorus!

Matters discussed at this meeting have been incorporated into the main body of this newsletter. Odette, Helga and I also went down to KZNSA gallery yesterday and had a stimulating and productive session with Angela. This information too, I share with you here:

FIBREWORKS X NATIONAL EXHIBITION AT THE KZNSA GALLERY

Preparations for the Exhibition are on track with the deposit paid to KZNSA gallery. There is a non refundable entry fee. This decision is in line with international exhibitions.

Fibreworks is paying the KZNSA gallery to hang the exhibition, after the KZNSA jurying process. This will be conducted by members of the gallery exhibitions committee. Fibreworks members will be in attendance while the show is being hung. Collaborative work is acceptable, as well as collaborative work within the Major Minors exhibition.
Fibreworks will provide some refreshments and there will be a cash bar available.

Estelle Hudson will be opening the exhibition.

We will conduct the first walkabout of our show on 13 October.

DELIVERY OF WORK
Please submit the following to Odette Tolksdorf by 21 September:
Entry Forms. Send by email to: odetteT@iafrica.com . In addition, include a printed copy in the box when you send your work.
Major artwork(s). Themed and/or Non-themed.
Major Minors if you are submitting.
C.V. information. Once again, we would like to put a file together for members of the public to browse through if they are interested in us personally. We have periodically, over the years, had a portfolio of ourselves at our shows and now we are keen to resurrect this idea, especially in the light of so many new Fibreworks members. We would like two A4 pages from each artist: One page of images and one page of text. Make sure your pages have your name indicated clearly. Develop your page in any way you wish!
Appropriate information on the chosen artist if you have opted for the Themed category. This will be included with your CV
And now for something completely different!
Please include with your submission 20 pieces of fabric 15 x 15 cm in cream/white/ very light gray/very light neutrals for an installation/ collaborative performance piece entitled RUNNING THOUGHTS: COMMUNITY CONVERSATIONS More exciting information about this below!
Three pieces of completed 15 x 15 cm fabric squares. These will serve as examples of hand sewing, machine sewing, knitting, gluing using objects trouvé etc. for the public to see as examples. Nothing too complicated or time consuming...remember the public are generally a timid bunch! Having some completed work from all of us that can be laid down immediately within the confines of the gallery will serve as a guide and inspiration for the public and generally get the ball rolling.
Please note if your fabric frays easily, stabilize it.
You should be thinking What On Earth is this all about? Read on…
RUNNING THOUGHTS: COMMUNITY CONVERSATIONS

At the meeting in Pietermaritzburg in March, we all decided that it would be a great idea to have a fibre based collaborative installation as a feature of this significant members' exhibition. We're now Twenty, after all!

Involving the public in a collaborative artwork will be a fun and engaging way to draw members of the Durban public into the gallery. People will therefore be invited to not only look at our work but to participate in a textile 'event' that will organically unfold during the course of our exhibition. The KZNSA also thought it was a great educational idea as we will be promoting awareness of the creative and therapeutic benefits of hand-stitching and imparting skills where requested and where necessary.

Since it will bring together - hopefully, different elements of the community - cultures, ages, sexes, etc. - it also has a dimension of 'out-reach', which is a good box to tick!

The KZNSA, advertising this project on their various media platforms, will specifically target orphanages and school groups who will be invited to participate and stitch/sew/glue a Square of their thoughts. Any thoughts? This will be displayed on the floor in the middle of the gallery as an expanding installation. Random, interested members of the public too, can participate and add their 'thoughts' to the growing body of our TEXT-TILE installation. Interestingly, and significantly, the little squares of fabric will be the Tiles on which the Text will be displayed.

During the Fibreworks walkabout, on Saturday 13th October, I am quite happy to talk to the public about our Running Thoughts project, should there be an interest or queries that have been generated on the KZNSA social media. Optimistically, the installation will really get underway the following week.

Our Proposal: how it will work
A Fibreworks member will sit at a table in the gallery demonstrating simple hand-stitching/printing/knitting/collaging/gluing words and/or images onto a fabric base. Squares of material, various kinds of recycled objects e.g. aluminum pull-tabs, buttons etc. will be on display and available to use. We will also supply basic joining materials e.g. pins, glue and thread. Members of the public are also invited to explore their homes for interesting found objects, images and text that could be incorporated into their Squares to be brought back to the gallery later.

We will have displayed on the floor of the gallery all the Squares that have been sent by the participating Fibreworks members. This will kick start the installation. Now you can understand why we need you to send us Squares with your artwork!

I imagine that this will generate curiosity and conversation and the member can then explain what's necessary to take part in this community tactile performance.

As the work grows and becomes over the next two weeks, it will be documented photographically. It could morph into different shapes, introducing an element of playfulness, perhaps. Its dismantling too will be captured and thereafter the participants are free to take their work home. Like Christo's Running Fence, the artwork's value lies in the collaborative making of it, rather than a completed and finished end product. (This also serves as a wonderful contrast to all the works on the gallery walls). We could send participants a few pics of its evolving construction, should they ask; should they have failed to take pics of their own. We could also consider a comment book for them to sign.

We will be liaising shortly with the KZNSA Education Officer who will be able to provide us with more information, such as dates and times that students would be arriving. The gallery may also be keen to supply some materials required for the event

Please consider coming to Durban for that week so you can come to the opening, attend the AGM and walkabout, talk to and work with the public during that first week. Maybe you have a skill you would like to share? What can you bring? What can you offer?

Let's try and make this an epic event!

EXHIBITION INVITATION

The gallery is taking responsibility for this. However, we do need images for them so please send Helga some good high resolution images ASAP. She will forward them to the gallery. Please do not send images to the gallery. Work through Helga.


2018 AGM

Our AGM will be at Odette's house at 9 am on Saturday 13th October. During this time we will assess any prospective new members' work. After assessing the work, we will head off to the KZNSA gallery for a Talk-and-Walkabout of our exhibition at 11am. After the walkabout, we finish our meeting over lunch at the gallery.

FACEBOOK
This is all our Facebook page. Click on the "Find us on Facebook" image below. So far we have 122 members. Please participate by posting images of your work on line. It would be lovely to share and get some dialogue going. Keep it topical, and if you see any spam or problem developing let Odette, Dana or Helga Know. They are the administrators.



FIBREWORKS WEB SITE http://www.fibreworksart.com/

When you want your web site page updated, please send Helga high resolution images. Label them with your surname and title of the work, and send them in a jpg format. Make sure your text follows the web site format.
Your work should look its best for maximum impact, so keep these guide lines in mind when you set up your 'photographic space':
Photograph work on a plain neutral backdrop. Avoid textured and patterned backgrounds.
Make sure the image is in focus, the edges of your work are showing and there is no distracting background.
Make sure the alignment is correct.
Helga will crop, if necessary, but does not want to spend hours cleaning up badly photographed work!
Look on line for tips as there is so much info out there: you don't have to fiddle with your camera's too much, but get the basics right.

https://www.theartleague.org/blog/2015/08/13/the-zero-budget-guide-to-photographing-artwork/

https://www.youtube.com/watch?v=Vpj28da03JQ (How to photograph art - Saatchi on line)

FINANCES

Our new account at Nedbank seems to be working efficiently as six members have paid their EDGE entry fees and four members their Major Minors. We also have 34 members who have paid their subs for 2019. Many thanks for this.

Remember to use the banking details at the top of this newsletter and please let Helga know on helga@adoptimise.com once you have paid any monies!

Furthermore, please add the extra costs on to your fees if you are paying cash or use the ATM.
The additional costs are as follows:

Cash payment: R6 plus R1.50 per R100 or part thereof
Nedbank ATM: R3 plus 75c per R100 or part thereof

If you pay by EFT there are no costs.

Cash payment: R6 plus R1.50 per R100 or part thereof.
Nedbank ATM: R3 plus 75c per R100 or part thereof.

Please be mindful of these additional costs.

Finally Odette has something to share with the Fibreworks group. In her own words:

I'm always so impressed with the quilt bags that Kathryn Harmer Fox makes for her work to travel around the country (and the world). Thick clear plastic is stitched into a simple envelope-style bag with a long fold-over flap. Very cool Kathy! See photo.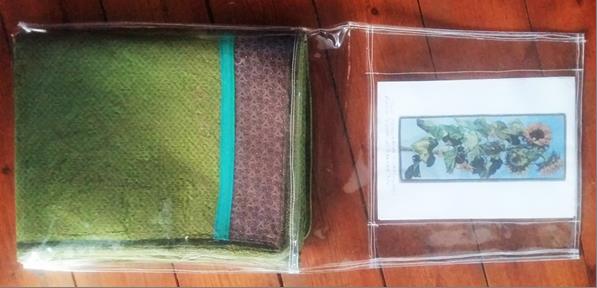 Kathryn Harmer Fox's Bag

CALL FOR ENTRIES

https://www.callforentry.org/festivals_unique_info.php?ID=4691 FI2019 Fiberart International
http://quiltnational19.org/

INTERESTING WEBSITES
https://www.youtube.com/watch?v=EITLA0fvx0I (Gina Niederhumer)
http://www.casamento.co.za
http://www.artofthequilt.com/about.html
https://www.houseandleisure.co.za/art-3/exhibition-must-see-20-female-artists-transforming-stereotypes/
https://www.gapminder.org/dollar-street/map
http://www.norvalfoundation.org/ Norval Foundation - private art gallery and sculpture garden. Modernist South African works, 20th and 21st century, visual art from South Africa,
http://diary.lizalou.com/

Thanks All!
Jeanette and The Team

Email: savdedav@iafrica.com